Photography for the dental sector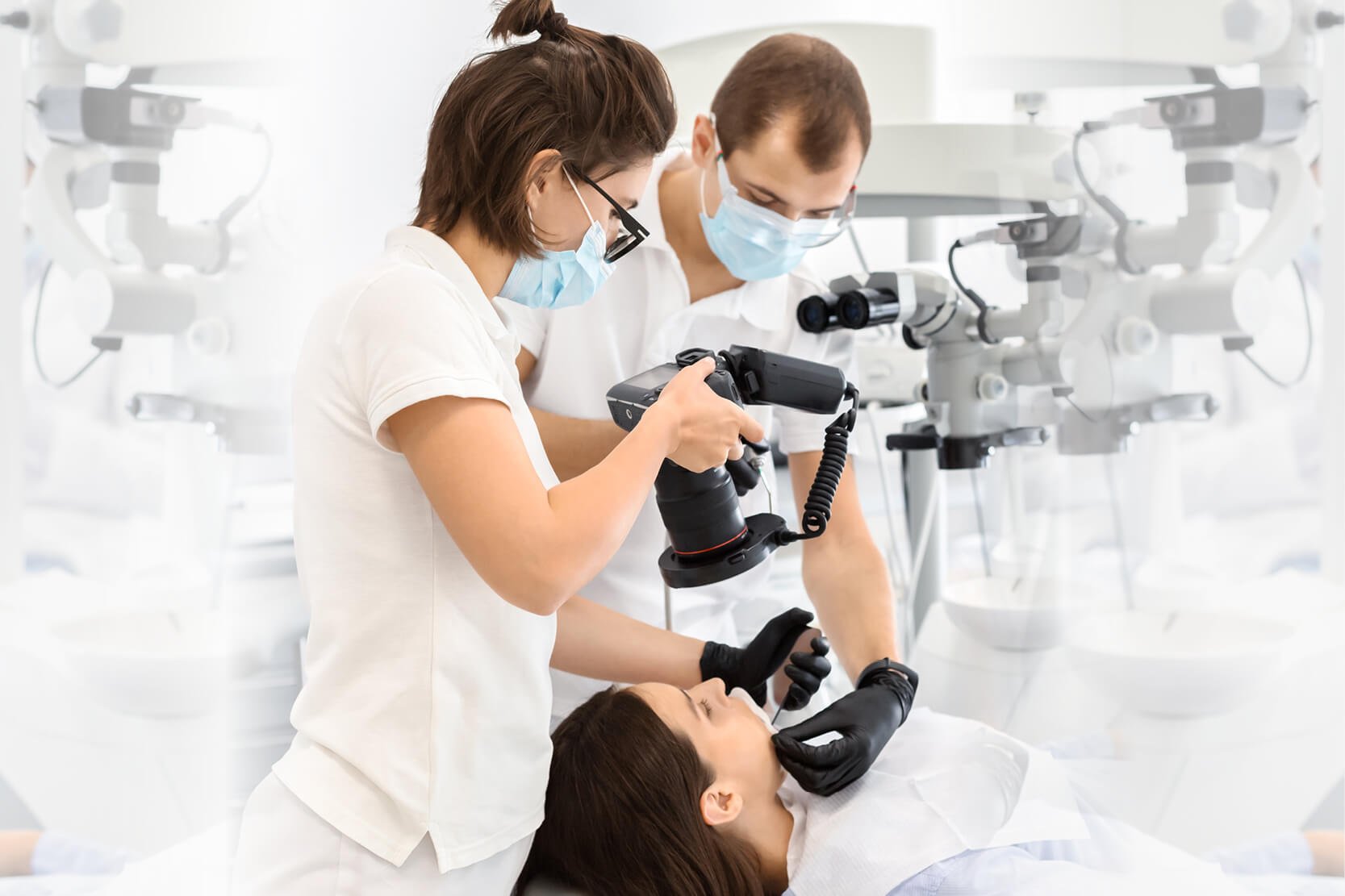 Introduction (1)
As a profession, dentistry can be extremely satisfying or an endless, stressful routine.

Photography is an excellent way not just to document clinical cases but to enhance one's professionalism and derive greater satisfaction from work. It improves the satisfaction of patients too, by allowing them to observe the attention and precision dedicated to their treatment.
In short, a dentist who photographs and documents his work becomes more aware of his achievements and develops a greater desire to compare results and improve.
Dental photography, especially in the areas of prosthetics and aesthetic dentistry, can reach high levels of professionalism and even become an art form in itself. Photography also plays a vital role in orthodontics, periodontology, implantology and oral surgery, and can be of great use to dental technicians as well.
As with any procedure, dental photography too has its learning curve and requires a good deal of perseverance and patience to perfect.
The camera must always be seen as a tool and not as a hobby or toy. It should be kept ready for use and in perfect condition just like a handpiece, and carried with you when working away from base.
Photographs serve as medical and legal records and therefore need to be of good or excellent quality.
Ideal charateristichs (1)
The first essential characteristic of a dental photograph is a correct rendition of colour, and this presupposes correct exposure. The second essential characteristic is good resolution, since even the smallest details of hard and soft tissues must be clearly visible.
The colour of a photograph must be as natural as possible, ideally replicating direct observation, and resolution must be as high as possible. A poor quality photograph is of no more use to diagnostics than a bad x-ray.
Certain features must always be clearly visible from a good quality dental photograph:
The difference between healthy and decayed teeth
Gum texture
The transition between keratinised and non-keratinised mucosa
Variations in shade of the corono-apical areas
The condition of the enamel
Enamel translucency
The presence of abrasion or erosion
Hypocalcified areas, fluorosis and stains
Dentine exposure at the cervical margin
Secondary caries and fillings
Scope and applications (2)
DOCUMENTATION: just like x-rays and models, photographs serve as medical and legal documents. There are three distinct phases at which photographic records may be necessary or useful:
Visit, diagnosis and treatment plan: just like x-rays, photographs first prove useful in making a diagnosis and devising a plan of treatment. Very often, details that were missed during the visit may emerge from the study of photographs, as the use of mirrors and flash lighting exposes tooth surfaces differently. In the field of forensic dentistry, photographic documentation makes a major contribution to legal evidence.
Progress and monitoring of treatment: a second application is in monitoring the progress of treatment or clinical developments. Examples include post-surgery or orthodontic check-ups and the monitoring of oral lesions over time, in which photographs serve as an essential means of comparison.
Result of treatment: end-of-treatment documentation is essential if a dentist ever needs to demonstrate results at a future date.
COMMUNICATION: photographs also serve to communicate more effectively with:
Patients: some patients do not easily understand the problems they present and sometimes verbal communication alone is not enough to get across the seriousness of their condition. By using the communicative power of photographs, the dentist can make his patient more aware of the problem and even more collaborative during treatment.
Staff: just like patients, dental practice staff sometimes find it difficult to understand the importance of a certain treatment or sequence of operations. Using photographs to illustrate a point makes it far easier to insist on certain concepts.
Students: photographs form an integral part of lectures and courses and enhance all aspects of didactic and scientific communication.
Other specialists: photographs are an ideal way to communicate with other specialists.
Dental technicians: photos can play a vital role in the passage of information between the dental practice and the dental laboratory. Even the best written prescription cannot communicate the same level of detail as a good photograph.
MARKETING: a good collection of photographs serves as effective marketing material as well as a personal portfolio of clinical cases.
What camera/lens/flash to choose? (3)
The type of camera that is most versatile and best able to achieve good quality results is without a doubt the DSLR (Digital Single Lens Reflex), nowadays often referred to simply as the Reflex.

The main advantage of the reflex camera is that it eliminates all parallax error, as the viewfinder, lens and sensor are all arranged along the same optical axis. A DSLR camera consists of a camera body that contains a sensor, an LCD screen and a micro-processor.

The camera body can be fitted with interchangeable lenses to suit different requirements. Dental photography must satisfy two main requirements: recording the patient's face for identification purposes and producing close-up images of dental arches, individual teeth or specific features of a single tooth.

The ideal lens must produce good quality images in both these scenarios. The lens type most commonly used is the macro lens. A good macro lens can produce photos in 1:1 scale or 1:2 magnification. The 1:1 ratio is ideal in most cases and offers the advantage that the image recorded by the sensor maintains its actual dimensions.
Lenses for dental applications have focal lengths (the distance between the lens and the sensor) ranging from 50 mm to 105 mm. There is an enormous variety of such lenses on the market. (3)
Consideration also has to be given to the flash and accessories. Auxiliary light sources are generally required in addition to the camera's own flash. (4) Popular types include the ring flash, the snap-on flash and the dual flash with bracket.

All types can be wireless or cabled. While ring and snap-on flash types provide adequate illumination, the advantage of the duel flash lies in its ability to modify the direction of the light sources.

By modifying the direction of the two light sources and therefore the angle of incidence of the light, the dentist can obtain precise optical effects and far better photographs. If needed, diffusers can be used to further control the incidence of the light and obtain even better quality photos.
Accessories (3)
Various accessories are needed to take certain types of intraoral photograph.

First of all, retractors or spreaders can be used to move the lips or cheeks out of the way of the teeth to be photographed. There are many types available, in a wide variety of materials.

Certain types of image, for example occlusal photographs taken perpendicular to the upper or lower occlusal plane, require the use of mirrors. Sagittal images frequently require the use of mirrors too. Mirrors should always be rhodium coated to avoid double images.

To stop mirrors misting up in the mouth, they should either be heated before use or an air-water syringe used to keep them clear. Contrasters are another accessory that is used mainly to produce a black intraoral background in aesthetic dentistry.
---
Bibliography
Ahmad, I. (2009). Digital dental photography. Part 1: an overview. British dental journal, 206(8), 403-407.
Ahmad, I. (2009). Digital dental photography. Part 2: purposes and uses. British dental journal, 206(9), 459-464.
Ahmad, I. (2009). Digital dental photography. Part 4: choosing a camera. British dental journal, 206(11), 575-581.
Ahmad, I. (2009). Digital dental photography. Part 5: lighting. British dental journal, 207(1), 13-18.
---
Do you want more information on Zhermack Dental products and solutions?
Contact us
---