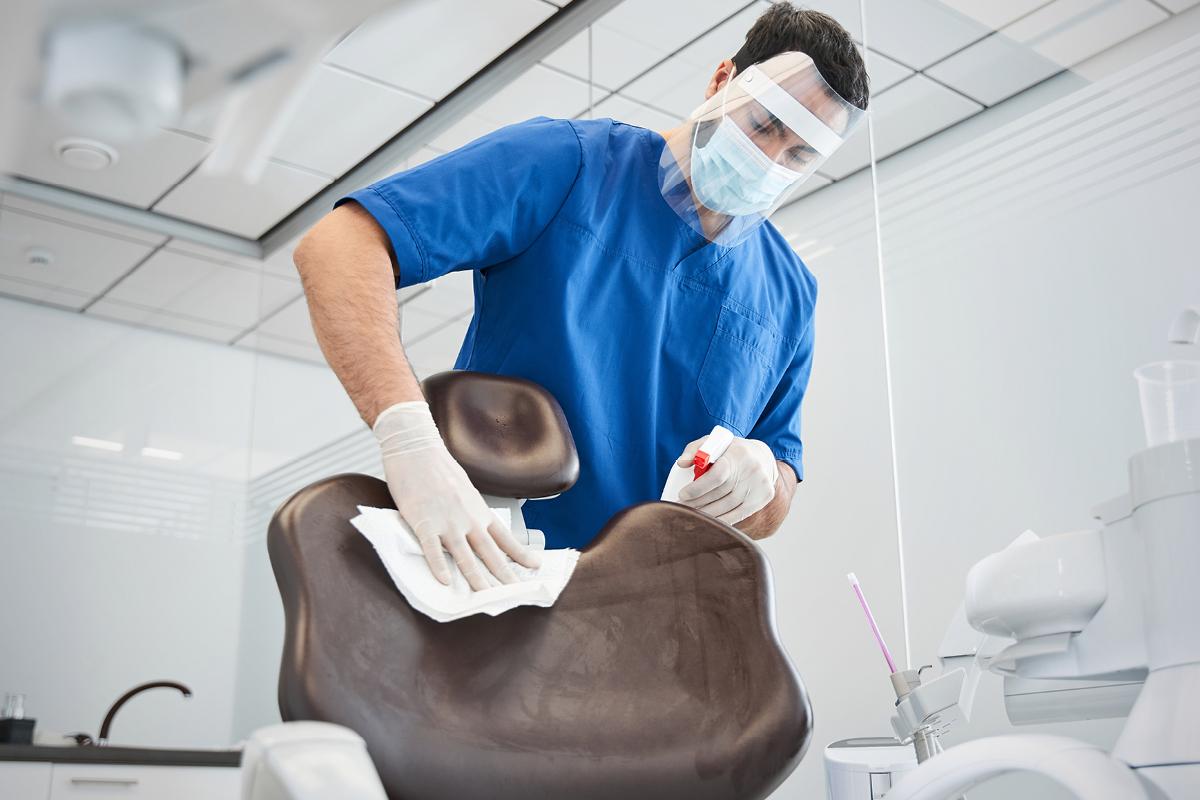 Covid-19 hit Italy in 2020 with unexpected and unprecedented force and impact. As the pandemic spread, Italy was the first European country to be seriously affected; other European countries only experienced similar levels of infection much later.
As the number of cases, hospitalisations and deaths rose, the Italian government introduced drastic measures, forcing the closure of all shops except food stores, supermarkets, pharmacies and other essential businesses [1]. Dental practices were allowed to remain open, but could only treat urgent cases and were invited by the authorities to agree a programme of holidays or leave with staff [2]. In other words, the situation was extremely challenging and the work of dental practices almost ground to a halt.
The situation remained unchanged from March to May 2020 when, following an improvement in pandemic-related statistics, dentists were authorised to return to normal working provided they followed the "Operating Procedures for Dental Practices during Phase 2 of the Covid-19 Pandemic" issued by the Scientific and Technical Committee set up by the government to oversee Phase 2 of the public health emergency [3].
From lockdown to the sudden market recovery
The pandemic, the subsequent (almost) total stoppage of dental work and, later, the "new working methods" imposed by the S.T.C. led to major changes in the dental market, not only for dentists themselves but for the whole supply chain serving the sector (manufacturers and distributors).
Dental practices responded in different ways to the forced closure of almost 3 months in 2020. Over this period, all practices inevitably saw a reduction in the number of treatments performed, and this of course resulted in a drop in purchases of consumables and equipment. Many practices, including some large ones, were forced to close. High overheads and lost earnings led to bankruptcies, with serious repercussions for staff and patients whose treatments had not yet been completed [4].
After reopening at the end of May, the market picked up rapidly, presumably because of the large number of treatments that had been suspended over the lockdown (an estimated 112 days of work had to be recovered) [5].  On top of these old cases, new patients arrived who had experienced dental problems during the lockdown or who had decided to undertake new treatments. These cases represented a large slice of the market. This rapid recovery led to dentists purchasing an increased quantity of normal consumables and this improved the prospects of many manufacturers.
The increase in the prices of PPE and consumer products
Given the increased demand, however, consumable prices in general rose, and those of PPE especially, in some cases trebling or even increasing by ten times. By April there had already been problems in sourcing gloves, surgical masks, FFP2 and FFP3, gowns and aprons in the face of strong demand from hospitals, the Civil Protection and all other healthcare operators and services involved in managing the emergency. The restrictions in place in countries producing PPE compounded these problems [6]. All this has demanded a major financial commitment from dental practices, who are faced with longer treatment times for individual patients as a result of the extended procedure times and above all pre- and post-operative times imposed by the Technical and Scientific Committee guidelines [7].
This situation could easily lead, in the near or not too distant future, either to a rise in the cost dental procedures or to a loss of profits, given higher costs and lower work volumes. Today, we know that most "manager" dentists are struggling to organise their staff and their operating schedule in a more flexible manner, and to concentrate more than one treatment into a single session in order to maximise the efficiency of their business in the face of rising costs and extended waits between one patient and the next [7]. Nevertheless re-organisation alone may not be enough in future, depending on how the pandemic develops once the whole population, or nearly everybody, has been vaccinated.
The industrial and distribution sector
As far as the industry is concerned, the initial crisis in product consumption was partly offset by rising sales of hygiene and personal protection products, whose prices have risen in line with demand [5]. During the lockdown, distributors of dental products effectively stopped buying. Faced with serious economic uncertainty and financial difficulties caused by a suddenly frozen market, these businesses preferred to use up their existing stock, reducing new purchases to the minimum essential and accepting the risk of reduced service to customers in favour of financial resilience [5]. This impacted dentists by making it difficult for them to obtain certain products at many times (especially PPE). This in turn inevitably led to a significant rise in prices.
The level of purchases by dental distributors only began to return to normal after July 2020. It was not until January and February 2021, however, that purchasing rates fully recovered, showing that normal stock levels had been restored and guaranteeing dentists ready availability [5].
Each crisis brings great changes
We must not, however, forget that all major crises lead to major change. Such change may have a positive or negative impact on the dental sector as a whole, depending on how dentists, producers and distributors behave subsequently. We shall have to wait and see how greater attention to health matters by the general public will affect the dental economy.
We shall have to assess the extent to which trust will be restored between doctor and patient after the pandemic and the vaccination campaign, and what attitude dental practices and clinics will adopt to the financial and strategic damage incurred in recent years.
2020 has been a disastrous year for the dental economy, but the downward trend could well be reversed, and even rapidly.
---
References:
[1] https://www.bbc.com/news/world-europe-51810673 n.d.
[2] https://www.odmeo.re.it/wp-content/uploads/2020/03/COMUNICATO-ANDICAO.pdf n.d.
[3] https://www.salute.gov.it/imgs/C_17_pubblicazioni_2917_allegato.pdf n.d.
[4] https://www.ilfattoquotidiano.it/2020/07/02/dentix-chiude-la-catena-spagnola-con-oltre-60-laboratori-in-italia-clienti-abbandonati-con-i-fidi-da-pagare-400-dipendenti-senza-lavoro/5854302/ n.d.
[5] https://it.dental-tribune.com/news/un-anno-di-pandemia-nel-dentale-impatto-sulla-domanda-di-prestazioni-e-sul-business-dellindustria/?fbclid=IwAR2PIhFdyNqgIUoE_jGXh7PKyPEOb8RBsL_eP1XDNXfMN3OnvKM5mpmLnt8 n.d.
[6] http://www.odontoiatria33.it/approfondimenti/19240/dpi-nel-dentale-il-problema-dell-approvvigionamento-e-del-costo.html n.d.
[7] http://www.odontoiatria33.it/approfondimenti/20179/covid-19-e-la-gestione-dello-studio-odontoiatrico-prospettive-economiche-e-operative.html n.d.
---
Do you want more information on Zhermack Dental products and solutions?
Contact us
---