The importance of impression disinfection and critical issues in the dental sector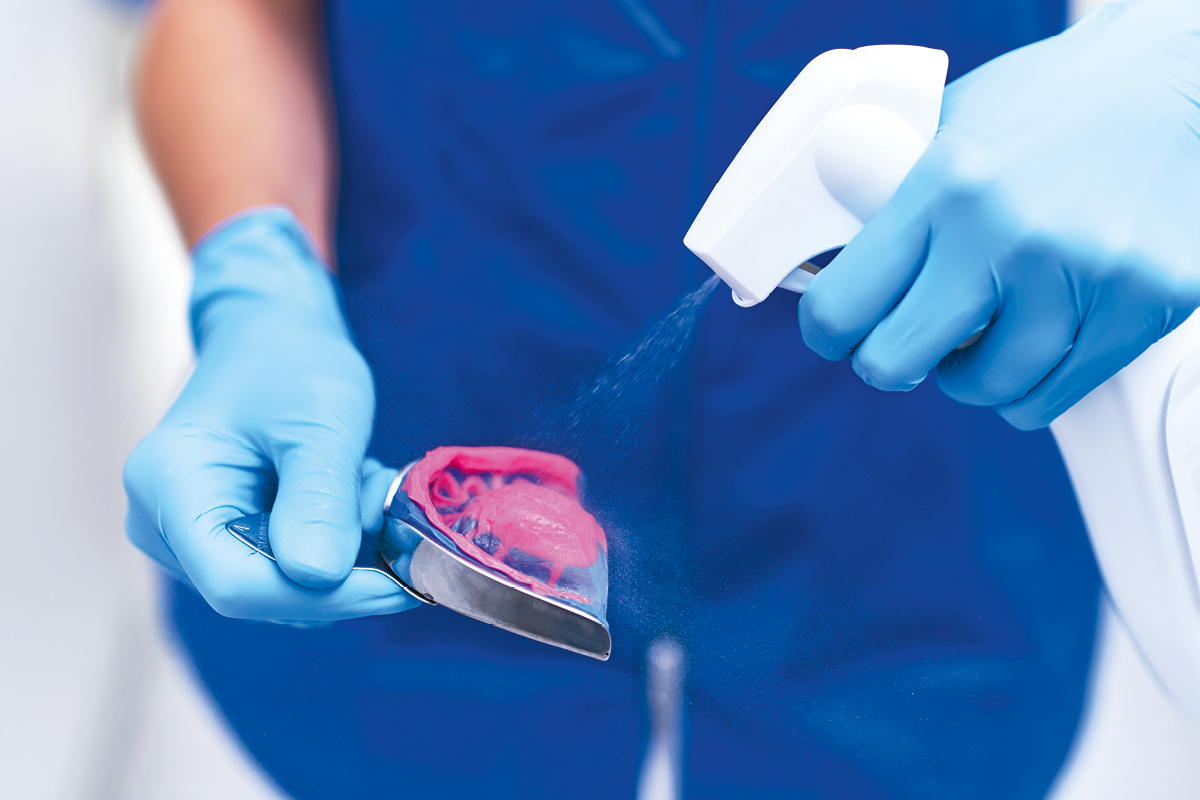 What to choose and what to do?
Prostheses components and orthodontic appliances are vehicles of contamination, starting from the initial impression-taking stage, as they are potentially infected by the patient's saliva and/or blood. It is therefore essential to adopt strict protocols in order to mitigate the biological risk. Below, we will focus on the criteria for choosing a disinfectant, which procedures to follow and, lastly, which Zhermack products are intended for impression disinfection.
Prevention consists in washing and disinfecting the impression, which must be carried out before dispatch to and return from the dental laboratory [1]. The procedure must also be applied to prostheses and orthodontic appliances during all stage of processing, through to delivery.
It is therefore essential to adopt stringent biological risk mitigation protocols. As a matter of fact, inadequate decontamination procedures exponentially increase the risk factor: in 2010, the John Cochrane Veteran Administration informed 1800 patients, who had received dental treatment at their facilities, that they may have been exposed to viral infections due to "inadequate" sterilisation procedures [2].
Custom medical devices are vehicles of infection from the dental practice to the laboratory and vice versa. Prostheses must be washed and disinfected from the impression-taking stage. After washing, it is necessary to carry out medium/high-level disinfection, in accordance with the detailed procedure provided below.
Choosing a disinfectant
According to an ideal evaluation, an optimum disinfectant should satisfy a series of requirements that can be broken down into essential requirements and additional requirements:
Essential requirements:
biocidal activity
broad spectrum of action
rapid action and persistent effect
toxicity at the concentrations used
harmlessness for the materials to be treated
easy of use
quality and safety
cost-effectiveness
What to do?
All dental treatments involving the fabrication of custom devices require impression-taking and the exchange of components and patient bite registrations between the dental practice and the laboratory, with the possibility of cross-infection through contact with infected material [4].
Impressions must be washed and disinfected by immersion or spraying at the dental practice before they are packed. It is good practice to always check the prescriptions of use regarding the antimicrobial effect of the disinfectant used.
At the dental practice, practitioners must perform the following operations before sending the material to the dental laboratory:
Wash the prosthesis or impression immediately after removal, because any organic residues that are not removed will inhibit the action of the disinfectant.
Sterilise any material able to withstand autoclave or physical disinfection treatments (metals and ceramics); decontaminate with virucidal disinfectant any materials that are not suitable for physical treatments (impressions, waxes, resins). Disinfection operations must be carried out wearing protective equipment, preferably in the same work area in which the treatment was carried out.
After disinfection, wearing clean gloves, place the material in a bag and seal it.
The prescription form must be filled in outside the work area and placed in a separate plastic bag, in order to prevent contamination.
Indicate the risk of infection on the prescription and specify the disinfection practices carried out. It is essential to establish the material treatment methods and the disinfection and packing operations to be carried out together with the laboratory manager. Written checklists for use by all staff involved in the management of the components are recommended.
Dental prostheses, appliances and impression trays received from the dental laboratory must be disinfected using virucidal disinfectants as indicated above, before being introduced into work areas. Attention must be paid to the disinfection of the packing and the correct disposal of materials originating from outside the practice.
Permeable materials (gypsum, alginates) may not be completely disinfectable against COVID-19, and gloves and PPE should be worn when handling them. Avoid contact between contaminated components and gypsum models. The use of water-repellent materials (elastomers for impressions, plastic materials for models) facilitates disinfection procedures.
The digitalisation of certain procedures (impression, model printing, prescription forms) reduces the risk of cross-contamination [5].
What to choose?
Zhermack provides high-performance impression disinfection products, with a broad spectrum of action, tested in compliance with the most recent European disinfection regulations, and with a high degree of compatibility with the various types of impression material.
Two products are available:
Z7 Spray: ready-for-use spray disinfectant for rapid impression disinfection. The product is alcohol-based, has a broad spectrum of action and is compatible with all impression materials. It does not affect the dimensional stability of the materials; it is ideal for rapid disinfection (3 minutes) and does not require rinsing. A single spray pack can disinfect up to 250 impressions.
Z7 Solution: concentrated disinfectant containing quaternary ammonium salts and phenoxyethanol. It has a broad spectrum of action and does not affect the dimensional stability of the impressions, making it safe for the materials used. It can disinfect a large number of impressions: 1 litre of Z7 Solution produces 100 litres of disinfectant solution (1% dilution). This means that 1 litre of Z7 Solution can disinfect 4000 impressions immersed in the solution for 10 minutes.
Both disinfectants are active against coronavirus, when used in compliance with the manufacturer's instructions.
---
Bibliography
Balsano L. Infezione crociata e rischio biologico in ambito odontoiatrico. Il Dentista Moderno- 2012
Finzi G. at al. Linee guida per il corretto utilizzo degli antisettici – disinfettanti. 2009
Chidambaranathan AS, Balasubramanium M. Comprehensive Review and Comparison of the Disinfection Techniques Currently Available in the Literature. J Prosthodont. 2019 Feb;28(2):849-856
Indicazioni operative per l'attività odontoiatrica durante la fase 2 della pandemia Covid-19; 2020.
---
Do you want more information on Zhermack Dental products and solutions?
Contact Us
---